P.G.R. – Polish Psalter
The next journey of the band takes place in time. The Poland of the Renaissance is an age of interesting ideas and great projects, one of them is the Polish Psalter. "At the end of 1579, in the printing house managed by Jan Januszowski in Krakow, the most outstanding work of Jan Kochanowski and all Old Polish literature, "Psałterz Dawidów", was published. It contained a poetic paraphrase of 150 psalms from the Book of Old Testament Psalms.[…]"
Kochanowski's translation is therefore not a translation in the sense of a faithful linguistic translation of the original, but a form of modern poetry. Jan Kochanowski suggests musical colaboration for them to Mikołaj Gomółka. This barely after a few months brings 150 psalms in a 4-voice system.
The spirit of polish renaissanse is expressed in this work: National language as carrier of religious essence, rhythms of european dances (Pavane and Galliard), close colaboration of artists from different genres. Usage of natural accents characteristic for polish language.
The same way Grzegorz Rogala – leader of PGR – reworked psalms. Some tunes are played faithfully – each note as in original four voices arrangement, enriched with drums. Than come middlesections which lead to jazz solos with a spice of early-music harmonies, which develope the original idea and lead to common culminations. International personalities which interprete this syncretic concept, makes the music leads audience to the out-of-time areas.
P.G.R. – Polish Psalter performed among others in:
France/ Paris – St. Merry Church
Sweden/Stockholm – Stockholm Jazz Festival
Poland/ Głogów – Głogowskie Międzynarodowe Spotkania Jazzowe / Glogow International Jazz-Meetings
Poland/Czarnolas – Museum of Jan Kochanowski

Album P.G.R. – Polish Psalter was published in 2020 by Ars Sonora, You can purchase it at: www.rogalamusic.com/sklep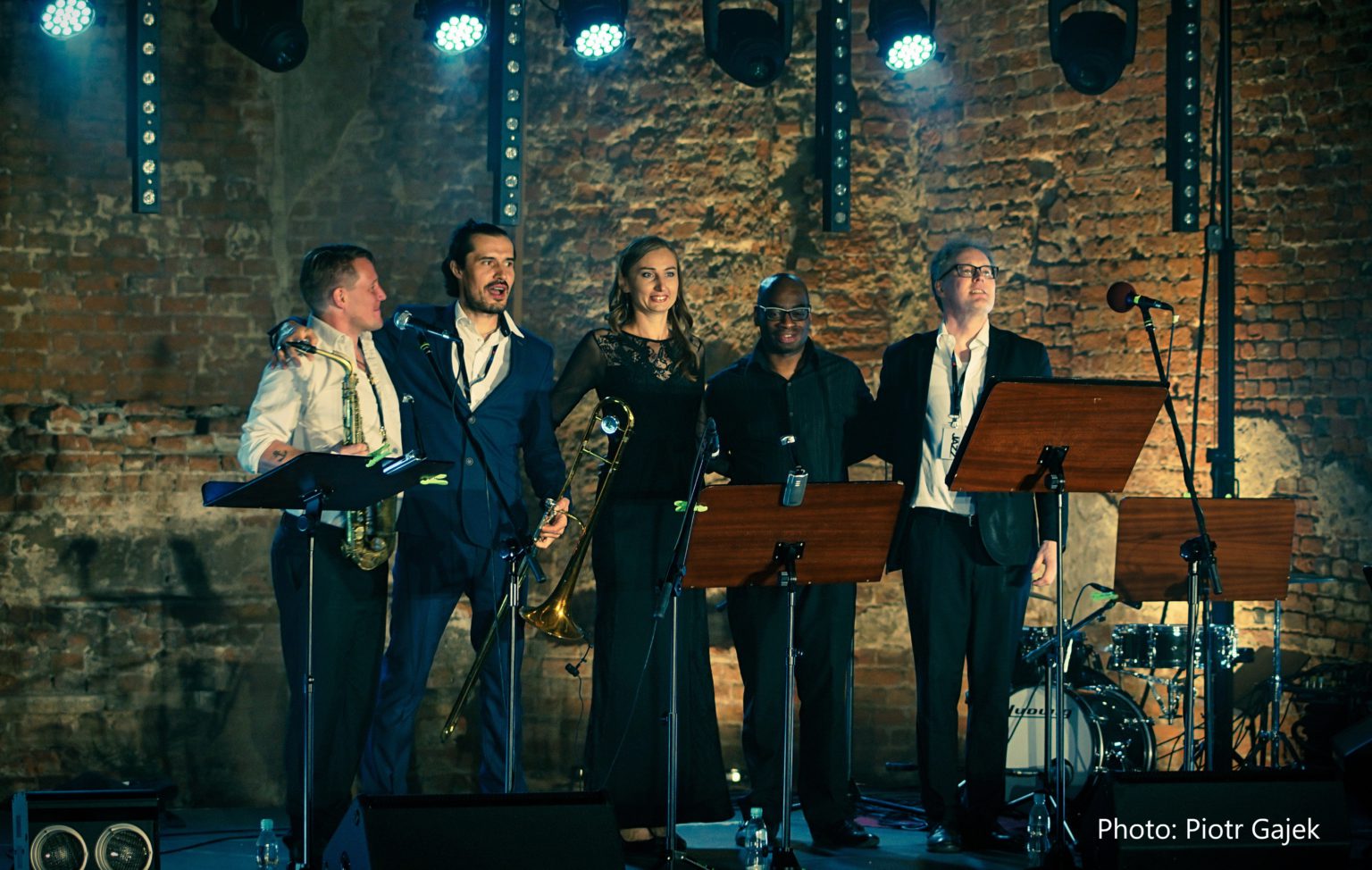 Line up:
Barbara Rogala – soprano
A graduate of the Vocal and Acting Department at the Academy of Music in Łódź, in the singing class of prof. Urszula Kryger. She collaborated with such bands as: London Gabrieli Consort Choir, Lodz Philharmonic Choir, Vivid Singers Vocal Ensemble, Wrocław Philharmonic Orchestra and Orchestra. She participated in courses conducted, among others by prof. Piotr Łykowski, prof. Stefan Kamasa, Christian Euler, and Dr. Katarzyna Dondalska. She has performed in Germany, Belgium, France, Ireland, Ukraine, Italy and Poland. She performed solo among others in such projects as Stabat Mater G.B. Pergolesi, Cantata 49 J.S. Bach (Bach's Marathon), AŻ Festiwal, Cantate 51 J. S. Bach. Together with the band Kapela Polonica, she performed at many festivals in Poland, including The Word and Music Festival at the Jesuits in Łódź, the Early Music Festival in Żnin and in 2018 she released CD "Kapela Polonica- G.Ph. Telemann" with church Cantatas. In addition, together with the pianist Dobrochna Jachowicz-Zakrzewska, she co-creates Rogala & Jachowicz Duo, with whom she performs a program based on Polish vocal lyric. He collaborates and records with the Polish-Israeli project PGR & Zilberman. In 2018 she took a part in a 5 concerts project as soloist with string quartet to celebrate 100 Anniversary of regain by Poland independece. the project was supported by polish culture ministry.
Roman Ott – alto saxophone
"… is one of the best and most interesting Berlin saxophonists and composers, he lived in Baltimore for a year, he won many honors for his solo and compositional skills. He studied jazz in Essen and Berlin (Germany), he recorded his third original album in the label Traumtonrec. and Fresh Sound New Talent records with Kurt Rosenwinkel. Now he is working on his next album for "fresh sound rec." And writes film and theater music. "- (all about jazz NY.)
Frank Parker – drums
Frank Parker was born and raised in Harvey, Illinois, USA and began playing the drums and piano when he was just five years old. He developed his talent by playing with local musicians from his neighborhood. He was selected as the top drummer for the Illinois Music Educators Association jazz program in 1991 and received a scholarship to Western Illinois University in 1991 where he graduated in 1995 with a degree in Music Business.
He performed on two recordings with the top university jazz ensemble, the Grammy nominated Jazz At The Crossroads (1992) and The Third Degree (1994). Frank returned to the Chicago area in the summer of 1995 and began performing full time with a number of music ensembles. He was invited by William Russo (Stan Kenton Orchestra) to join and perform with The Chicago Jazz Ensemble and soon after began performing with the rhythm and blues legend, Jerry "The Iceman" Butler. In addition, he joined the Orbert Davis Quartet, Patricia Barber Group, and a number of bands throughout the Chicago area. In 1999, Frank joined the Kurt Elling Quartet and performed concerts internationally. He recorded the Grammy nominated cd, Man In the Air with the Kurt Elling Quartet. He has also performed with Peven Everett & Seance Divine, Jump Rhythm Jazz Project, Cerqua Rivera Art Experience, The Mighty Blue Kings, Zzaje, Dee Alexander, Ken Chaney, Maggie Brown. Frank has performed with ensembles which featured Benny Carter, Freddie Hubbard, Jon Faddis, Randy Brecker, Roy Hargrove, Joe Lovano, Bobby Watson, John Patitucci, Marcus Belgrave, Kevin Mohogany, Jon Hendricks, Bob Sheppard, Martin Short, Arturo Sandoval, The Impressions, John Fedchock, Von Freeman, Chris Potter,
Frank Parker can be heard on the following releases: Frank Parker (The Lounge Sessions Vol. 1), Frank Parker & Maciej Fortuna Project (Jazz Inside), Kurt Elling (Man In The Air), Maciej Fortuna Quartet (Lost Keys), Laurence Hobgood Trio (Crazy World), Chicago Jazz Ensemble (Kenton a la Russo), Western Illinois University (Jazz At The Crossroads), Western Illinois University (The Third Degree), Charles Matthews (Mr. Keys), Joan Callaso/Larry Hanks Trio (Live), Ryan Cohan (Real World), Bobbi Wilsyn (It's About Time), Erin McDougald (The Auburn Collection), Natalia Nazarova (Listen With Your Heart), Brad Wheeler (The Future Was Yesterday), Orbert Davis (Live with Strings Attached-video), Andre Harris (Africa), Peven Everett (Gabriel), Ben Willis (Son de La Tira), Larry Wilson (Freely), Tanya Reed (The Debut), Shannon Harris (Desperado El Montuno, Black Asiatic Women).
Anders Grop – doublebass
Born in 1964 in Stockholm, a double-bass player and composer and teacher
After graduating from the Stockholm Institute of Music Pedagogy in 1995, he began the life of musician performing. He has performed all over the world with such bands as SOS Big Band, Stockholms Storband, Latin The Mood, Cirrus, Lynx, Persone (Rock) and Flintstones Big Band. In 2003, with the Berlin Big-Band, he won the Jazz & Blues Award Berlin.He cooperated, among others with Nils Landgren, Hayati Kafe, Ulf Anderson (ABBA), Paul Young.
Member of following groups: Satumaa (Finnish Tango), GMT-Berlin (Jazz, gala and party band), Sunset Deluxe (Gala/Partyband), Nordlicht (Swedish Jazz/Folk/Latin), Premier Swingtett (Gipsy Swing), Annette Wiszisla Trio (Modern Jazz), Metropolitan Orchestra (40-50ties Swing) Former Berlin Projects: Berlin Big Band, Flintstones Big Band, Swingin ́4 Django (Gipsy Swing), Dotschy Reinhardt Band (Gipsy Swing), Julia A. Noack Band (Singer/Songwriter), Sophie Berner Band (Kabarett), Natalie Dieah Trio (Jazz), Suse Jank Band (Jazz), MyLittleDjango (Gipsy Jazz), Project Rhinow (Modern Jazz/Electronica),Agita Rando Trio (Modern Jazz) Projects with for ex. David Beecroft, Michael Gechter, Maria Babtist, Dan-Robin Matthies, Axel-Glenn Müller,
Hattie St John, Barbara Jungfer, Axinia Schönfeldt, Karen Gallinger, Kenny Martin, Michael Clifton, Ralf Ruh, Martin Klingeberg, Joe Haider, Ekkehard Wölk, Lothar Stadtfeld, Thomas Loup, Eddie Hayes, Eva Other, Berndt Ratmayer, Heinrich Köbberling, Joe Haider, Karen Gallinger, Claus Rückbeil, Uli Bartel, Adam Benzwi, Harry Ermer, Pascal Wroblesky, Tal Bashai, Andrej Hermlin/Andreas Hofschneider (30-40ties swing), Casanova Society
Grzegorz Rogala – trombone 
Trombonist composer, arranger. A graduate of the Jazz Institut Berlin. Scholarship holder Berklee College of Music (Boston). He studied with Jiggs Whigham, and Phil Wilson.
Achievements: individual distinction at the FAMA festival (2005), winner of the festivals: Nadzieje Warszawy and the Berlin Jazz & Blues Award (with the Kattorna band). Member of the international bigband European Colors Jazz Orchestra. Winner of the Phil Wilson Award. (2009).
Discography:
"Kattorna" – Kattorna (2007)
"Straying To The Moon" – Kattorna (2010),
"Enthuzjazzm" – PGR (2011),
"Ballady i Transe" – Agnellus (2012),
"Poezjazz" – PGR&Zilberman (2014),
"Kapela Polonica" – G.F. Telemann (2018 – Producer)
"Bal dlaubogich.Tribute to Tuwim" – Agnellus (2019)
"Polish Psalter" – P.G.R. (2020)
Leader of such projects like: PGR, 2+, Grzegorz Rogala trio, Native Jazz Trio.
He has performed at festivals such as: Krzysztof Komeda's Festival, Summer Jazz Academy, Głogowskie Jazz Meetings, Jazz in Ruins, Od Nowa Jazz Festival, Ancona Summer Jazz (Italy), Marigliano Jazz Festival (Italy), Leipziger Jazz Tage (Germany), Sounds no Walls (Germany), Jazz Ahead (Germany), Flugery Lwowa (Ukraine), Stockholm Jazz Festival (Sweden),
In year 2018 he composed music to poems of Polish Poets from XIX-XXI c. and arranged for soprano and string quartet in frame of funded by Polish Culture Ministry and Programm Independent project "Zgniotą nas tyrany, powstaniem na nowo/ Crushed by tyrant, we stand up again"