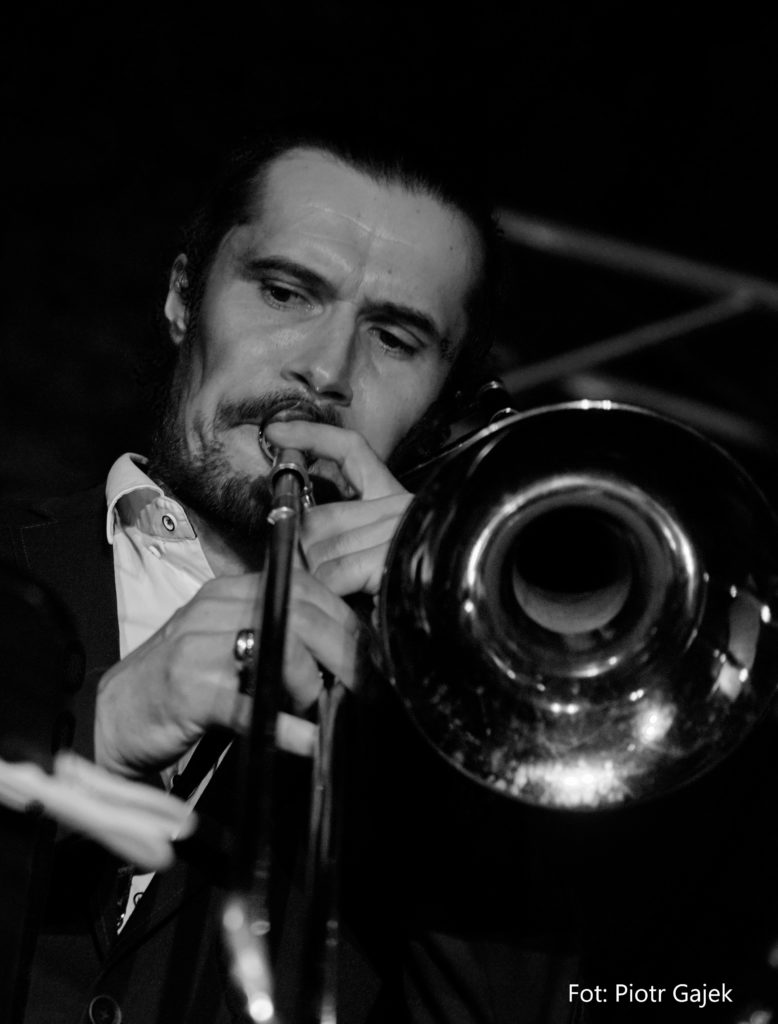 Grzegorz Rogala – trombone (Poland)
Trombonist composer, arranger. A graduate of the Jazz Institut Berlin. Scholarship holder Berklee College of Music (Boston). He studied with Jiggs Whigham, and Phil Wilson.
Achievements: individual distinction at the FAMA festival (2005), winner of the festivals: Nadzieje Warszawy and the Berlin Jazz & Blues Award (with the Kattorna band). Member of the international bigband European Colors Jazz Orchestra. Winner of the Phil Wilson Award. (2009).
Discography:
"Kattorna" – Kattorna (2007)
"Straying To The Moon" – Kattorna (2010),
"Enthuzjazzm" – PGR (2011),
"Ballady i Transe" – Agnellus (2012),
"Poezjazz" – PGR&Zilberman (2014),
"Kapela Polonica" – G.F. Telemann (2018 – Producer)
"Bal dlaubogich.Tribute to Tuwim" – Agnellus (2019)
"Polish Psalter" – P.G.R. (2020)
Leader of such projects like: PGR, 2+, Grzegorz Rogala trio, Native Jazz Trio.
He has performed at festivals such as: Krzysztof Komeda's Festival, Summer Jazz Academy, Głogowskie Jazz Meetings, Jazz in Ruins, Od Nowa Jazz Festival, Ancona Summer Jazz (Italy), Marigliano Jazz Festival (Italy), Leipziger Jazz Tage (Germany), Sounds no Walls (Germany), Jazz Ahead (Germany), Flugery Lwowa (Ukraine), Stockholm Jazz Festival (Sweden),
In year 2018 he composed music to poems of Polish Poets from XIX-XXI
c. and arranged for soprano and string quartet in frame of funded by Polish
Culture Ministry and Programm Independent project "Zgniotą nas tyrany,
powstaniem na nowo/ Crushed by tyrant, we stand up again"